The Future is happening Now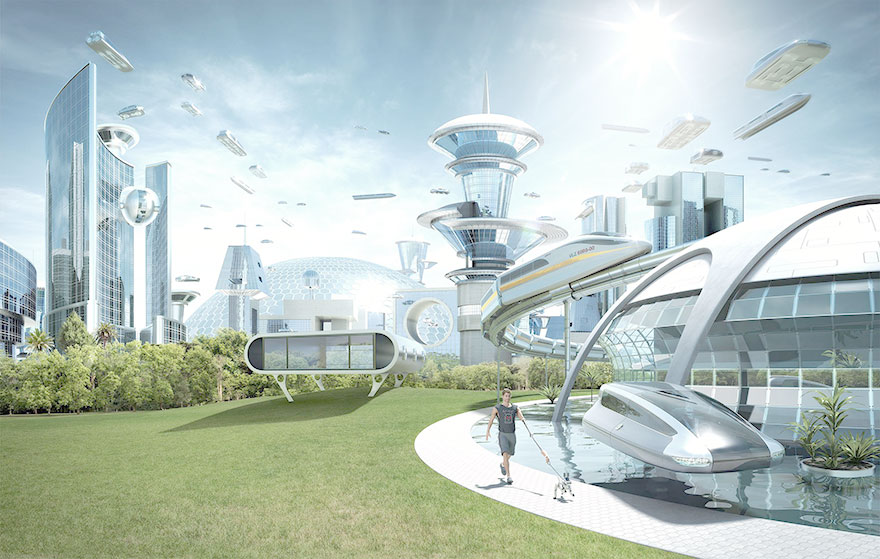 We know about Artificial Intelligence Projects, Machine Learning Projects, Augmented Reality Projects, Blockchain Projects. We have own experience and even products, which we made on top of every technology: A-Net, AR Calendar, Cryptocurrencies, ICO. However, that was the first time when one single project was incorporating all these technologies.
So, what we've discovered? 
The new shape of existing industries. It's overexciting!
Like semiconductors changed the shape of the hardware. Or steam changed the shape of naval forces. Or electricity changed the shape of manufactures. The same way modern technologies: Artificial Intelligence, Machine Learning Augmented Reality, Blockchain are substituting other modern technologies, such as computerized algorithms or embedded software. Well, you know, there are still companies and products, which aren't implemented even simple software. That's why this is overexciting. Definitely, like the leap to the future.
Fortunately, there are industries, which adopting new technologies almost immediately. Staying on the bleeding edge of technologies guarantee that they won't lose in a tough competition. In fact, now we are sure, that this is an ideal strategy for any company aiming the success.
Efficiency
What was impossible years ago now achievable. What was overcomplicated and expected to take years and significant budget now takes months or even weeks and accessible. Just imagine that multitier PKI solution with different access rights for different roles is ready to serve you via proper configuration of Blockchain. Indeed, somebody should still configure it, but the whole solution already there.
Imagine that instead of using sophisticated algorithms of pixel recognition you have a wide variety of Artificial Intelligence platforms to perform video streaming recognition in a real-time.
Imagine that you can train the solution to do certain operations with heavy equipment automatically.
Finally, you can visualize everything just in front of the eyes of your customers and it will still take less time than drawing a simple powerpoint presentation.
Amazingness
Since the first prototype has been ready and demonstrated - it took only a few weeks until the first strategic customers reached inventors. This is amazing already. However, the applicability of the solution for different industries attracts other customers. So, right now the question is not is it a success or not? The question is how big will be a success at the end of the day. 
Conclusion
Indeed, it looks like the formula of success. We are definitely sure that such success required more than just top technologies used. However, modern technologies made it achievable even for a small company.